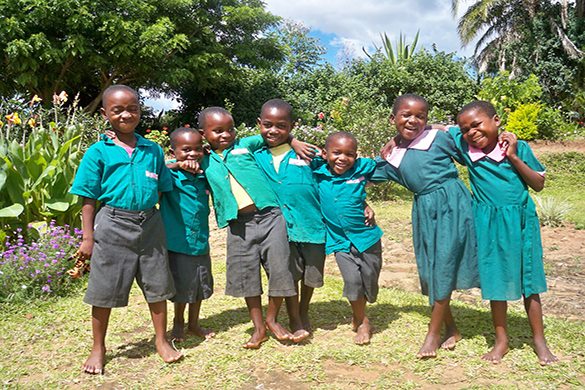 Meet
some
of
the
younger
ones…
Here are some of the younger children just returned from the local primary school at lunch time.
They have a 20 minute walk to and from school each day as the school is located in nearby Machemba village and caters for 7 surrounding villages.
Children have to wear school uniform or they are sent home and many of the village people cannot afford this but, with your help, our children can continue as they grow up.
The village tailor makes the green uniforms and we take school shorts for the boys from the UK.
One of the smallest ones, third from the right, is Matthew or Mattius who is now 8 years old. Matthew's mother was one of our carers and worked for us for several years before she passed away in 2011.
At first Matthew and his older sister Margret were cared for by an older sister who was married and lived in the village with her husband and baby. Unfortunately she could not manage three children and so Matthew and Margret came to live with us and happily settled in straight away as they knew all our children and were used to spending time at the orphanage. Matthew is a real character and is always laughing and smiling.