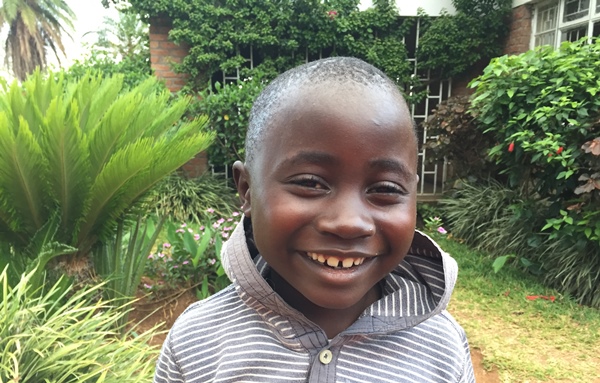 Another child arrives!
---
Once again it was the start of another school year only, this time, several of our older children had finished secondary school and had passed their Malawi Secondary Certificate of Education. This meant they could move on to further education leaving space for us to take little Prince. He was brought to us by his auntie as she could not take care of another child but his parents and grandparents had all passed away. He settled in straight away and went to school the next day!
Caroline has passed MSCE and can now go to the Malawi Institute of Tourism
Eliza and Lucy are now into their second year at Malamulo Secondary School and doing well.
Doreen is going to learn dressmaking and design at the Mayamiko Trust in Lilongwe
Gift is back to school after his illnesses and Kumbukani has applied for the Malawi Army
Caroline is one of our eldest girls and has been with us since day one. She has always wanted to work in the hotel industry and helps us with visitors as well as making the most delicious cakes for everyone. She is really excited to be going to college in the new year. Doreen has been with us since the start as well and we are thrilled that we have been able to get her a place with the Mayamiko Trust in Lilongwe. Doreen has always wanted to take up fashion design and she will learn dressmaking and have the chance of work with them later. Princess Meghan wore one of their dresses recently in Cape Town on the royal tour of southern Africa so they're bound to be successful in the future.
The weather was chilly and damp in early October which is unusual and Elspeth noticed how miserable the village children looked when she went to see the Chief as they just don't have enough clothing. The Chief was happy though to receive his visitors and thanked us for all the help during the floods earlier this year. A few days later though the children were all waiting by our boundary as they'd heard we would be giving clothes out! It's a shame we can't get more out to them but it's very expensive to send them. Elspeth also visited the blind old lady after we helped to rebuild her house following the floods.
The blind lady with her grandchildren 
Elspeth was visited by a another young man who has finished school and now gained a place at the Malawi University of Science and Technology. Simone is the brother of one of our long-serving gardeners and was top of Machemba school in 2015 but his parents could not afford to send him to secondary school. We stepped in and he is now well on his way to a successful future.
Ordinary life carries on at the home and Elspeth experienced home delivery Malawian style and a local artisan came to mend our wicker chairs.
The village children wait for clothes
Simone and Elspeth
Motor bike delivery of fresh tomatoes
Skilled artisan at work on our wicker chair
We have a large 24 acre plot of land (you can just see our buildings in the far distance in the photo) and it is now ready for planting the annual crop of maize. We are going to grow extra this year to sell to see if it's a viable business. Malsen has done an excellent job of growing vegetables this year and the children have all joined in to help water them and harvest the maize.
Our 24 acre plot ready to plant the maize
The children help water the vegetables
Lots of fresh vegetables
Thank you to all our supporters who have signed up to sponsor one of our children. We still need many more so, if you are interested, please email enquiries@smilemalawi.com. It costs just £20 per month and really helps us to feed and clothe the little children.
Grateful thanks as well to two sponsors who are funding 4 of our older children at secondary school and Elijah, who is training to be a doctor. Obviously this costs a lot more than the little children and varies according to school and college but please get in touch if you might be interested. We need help!!
Andrew Brown, who helped build the bridge in 2017 went back again in July 2019 to help mend the solar water system and the car as well as sorting lots of day-to-day problems. Thanks to him for giving up his time and money to go - the children really loved him being there. Here he is with Ulemu who wants to be a civil engineer once he's finished school.
Finally thanks to everyone who contributed again to mending our car. Andrew took the genuine Toyota spares with him and made sure the repairs were done quickly after our friends at All-Vehicle-Services in Sittingbourne obtained them for us as they are not available in Malawi.
Malawian Trustee Glad with the little ones
To celebrate our 15th Anniversary we decided to do something different this year so we are holding a Malawian Art Exhibition with Cream Tea on Sunday 17th November 2019. The venue is Upchurch Village Hall and it starts at 1430 until 1800. There will be displays of the children and how to get involved as well as lots of colourful paintings and prints for sale. The art is all from Malawi by local artist Christopher Sambani who we have supported for 15 years as well. 
Upchurch village hall is behind the Crown public house in the middle of the village, address The Street ME9 7EU.
Please come along, find out more about the charity and enjoy delicious scones and cream.
Cream Tea £10, Children £5
Admission only £2
Please email enquiries@smilemalawi.com to reserve your tea.
The Village Band by Christopher Sambani
www.smilemalawi.com 

Smile Malawi is a registered charity in England & Wales no.1106225 and a Non-Government Organisation (NGO) in Malawi no. NGO/R/07/19.

It is incorporated in Malawi no. TR/INC:2632 and a member of the Council for NGOs in Malawi (CONGOMA) registration no. C 296/2006.

Registered Address in UK : 63 School Lane, Iwade, Sittingbourne, Kent ME9 8SD
In Malawi : PO 120, Bvumbwe